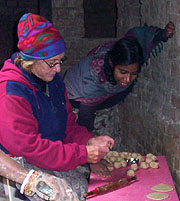 Working alongside local Indian volunteers, Diane prepares food for the malnourished poor.
Welcome to Diane Kirwin's
"Privilege-Sharing Bodhgaya"
Homepage


October, 2005

"If a starveling will ask you 'Where is God?' ... give him some bread and tell ...'here'."
Mahatma Gandhi
NEW LINK: Laurie Bagley, of Mt. Shasta, California, will climb the north side of Mt. Everest in April and May of 2006 in support of Privilege Sharing Bodhgaya.
CLICK HERE to read U.S. Senator Barbara Boxer's
letter to Diane!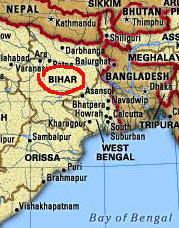 "Privilege-Sharing Bodhgaya" serves the beloved poorest in villages near Bodhgaya, Bihar State, India.