From Above the Air...
PE Macy Street Yard
and SP's Alhambra Avenue Coach Yards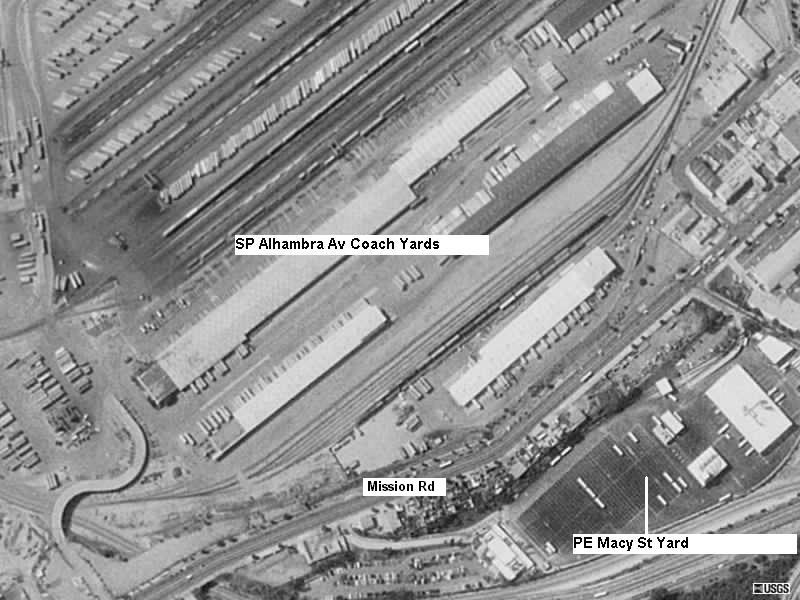 Macy St Yard was located along the main line east from downtown to the Northern District and to San Bernardino. All routine maintenance and repairs for Northern District cars were performed at Macy Street shops.
The line was built by the the San Gabriel Valley Rapid Transit Railway in the late 1880s, to Alhambra, where it turned north for Arcadia and Monrovia. SP took over the line in 1895, and PE acquired it in 1906. At that time, Pasadena Line trolleys, which had been running along Mission Road, were rerouted to the "new" alignment. Mission Road is essentially a long 30-foot-high plateau dividing the two rail yard sites.
San Bernardino Line passenger service ended in 1950, and the last of the remaining Northern District lines shut down the following year. SP continued using the line for freight service through the 1950's and 60's.
In the 1970s, L.A.'s first dedicated "busway" and carpool lane opened, paralleling the line down the center of the San Bernardino Freeway (I-10), immediately adjacent to the tracks. And by the 1990's passenger trains of "Metrolink" were operating there...more than a century after the route's inception.