South Pasadena - Mission Street & Meridian Avenue
John Heller's photo, August 27, 2002, 10:45am:
"First streetcar across Mission Blvd since the Pasadena Short line closed"

View is looking toward the southwest toward Los Angeles, along the former AT&SF Second District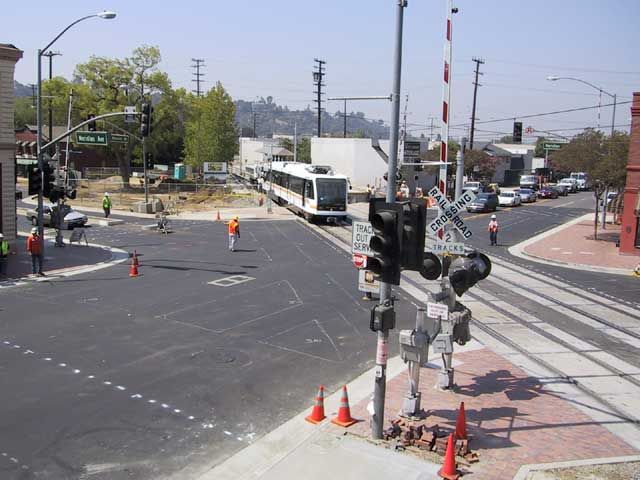 Below, same photo and then a map, showing location of old Pacific Electric "South Pasadena Line" tracks. Blue lines show approximate location of original "Pasadena & Los Angeles Electric Railway" rails, constructed in 1895, which became part of Henry Huntington's Pacific Electric Railway Company of Califonia ("old PE") by 1902. In 1903 the Pasadena Short Line was completed via Fair Oaks Avenue (to left of photo, about .4 mile to the east), and the cutoff parallel to the ATSF was abandoned and replaced by trackage continuing along Mission Street to Fair Oaks.
All service along Mission Street ended in 1935. The Pasadena Short Line, in turn, was abandoned to buses on September 30, 1951.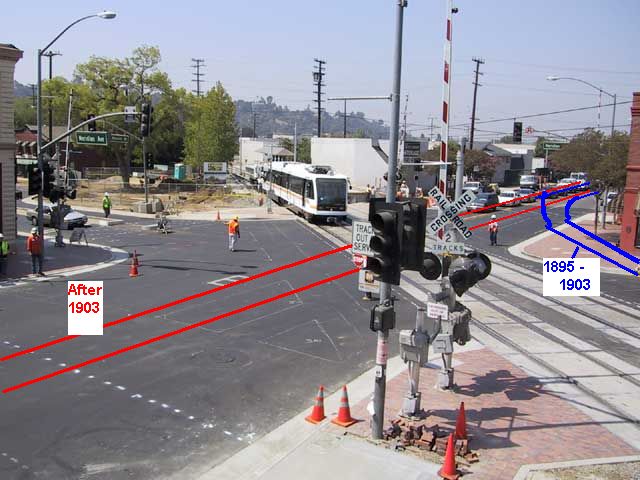 For more details about this PE line, see the ERHA's South Pasadena Line page, at http://www.erha.org/pelines/pensp.htm
I'm not certain whether (or the dates) these track segments were single- or double track. The map on page 16 of Interurbans Special 16 "Lines of Pacific Electric - Northern District" seems to indicate that everything northeast of the Garvanza Viaduct (see http://www.snowcrest.net/marnells/3bridges.htm ) was double-track. Anybody know?

CLICK HERE FOR A 1.5 MB ".pdf" MAP OF ALL RAIL LINES THRU SOUTH PASADENA... (REQUIRES ADOBE ACROBAT READER)