Evergreen Lodge offers the best in lodging for business, traveler's and vacationers.

Features Include:

Quality and comfort at very reasonable rates.
Cable color TV programming with HBO
27" remote control stereo TV's.
Direct dial touch-tone phones.
Microwave
Refrigerator
Full kitchenettes in selected rooms.
Air conditioning
Hair dryer.
All queen size beds.
Non smoking one or two bed rooms.
Large out door solar heated swimming pool and extra large hot spa.
Ample parking and large truck parking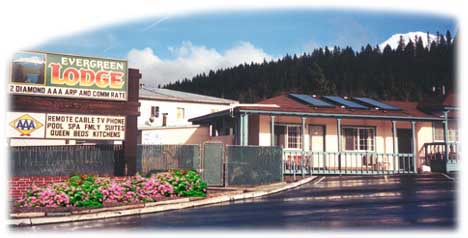 Our motel is conveniently located a short distance from I-5 and I-89 exits near most restaurants and down town commercial areas.
We are just minutes away from all our great local attractions like skiing, golfing, fishing, hiking, mountain climbing, boating, water rafting, water skiing or canoeing in the lakes of the lower sacramento river.
[ Home | Rooms | Pool and Spa ]
Click Here to view the Siskiyou County Visitors Bureau
Need driving instructions? Click here to visit mapquest.com. All you have to do is enter your address, and our address and mapquest will give you step by step driving instructions.
Last Updated : 1/18/01 - Copyright © 2001 Evergreen Lodge


Site Design by SnowCrest Webdesign